The Ammonia Purge Gas Unit (APGU) utilizes the patented AET non-cryogenic absorption process to separate methane and heavier components from the hydrogen and nitrogen present in ammonia plant purge gases. The purified H2/N2 leaves the absorber column with minimal pressure drop. The absorbed methane and heavier components are flashed off from the solvent by reducing the pressure of the absorber bottoms stream. The separated gases leave as the fuel gas product. The liquid from the proven heatless flash regeneration step is returned to the top of the methane absorber as lean solvent.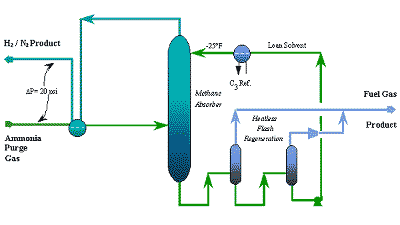 [click] here for large, printable view of schematic
Features
Low Capital &
Operating Costs

When pressure drop is critical or high H2/N2 recoveries are desired, the initial and on-going costs are lower.


Wide Operating
Pressure Range

250 to 1,800 psig feeds without inlet gas compression.


Low System
Pressure Drop

15 to 20 psi is typical; can be designed for 10 psi DP.


High Light-End
Recoveries

One pass H2/N2 recovery typically exceeds 95+%. Methane and argon rejection is required.


Low Content
Feeds

Processing of 15 to 80 mol% H2/N2 feeds.


Wide Feedstock
Flexibility

Absorption-based APGU offers inherent flexibility for ever-changing flow and compositions.


Inexpensive
Metallurgy

Lowest temperature, limited by C3 refrigeration, permits the use of carbon steel metallurgy predominantly.


Short Construction
Schedule

Excluding the compressor delivery; expected to be 4 to 8 months based on unit capacity.


[TECH] [CONSULT] [PAPERS] [ABOUT]
Copyright © 2004 by Advanced Extraction Technologies, Inc. All rights reserved.

Advanced Extraction Technologies, Inc. 2 Northpoint Drive, Suite 820
Houston, Texas 77060-3237 USA
Phone:
(281) 447-0571
Facsimile:
(281) 447-5601
E-mail:
s
eekinfo@aet.com